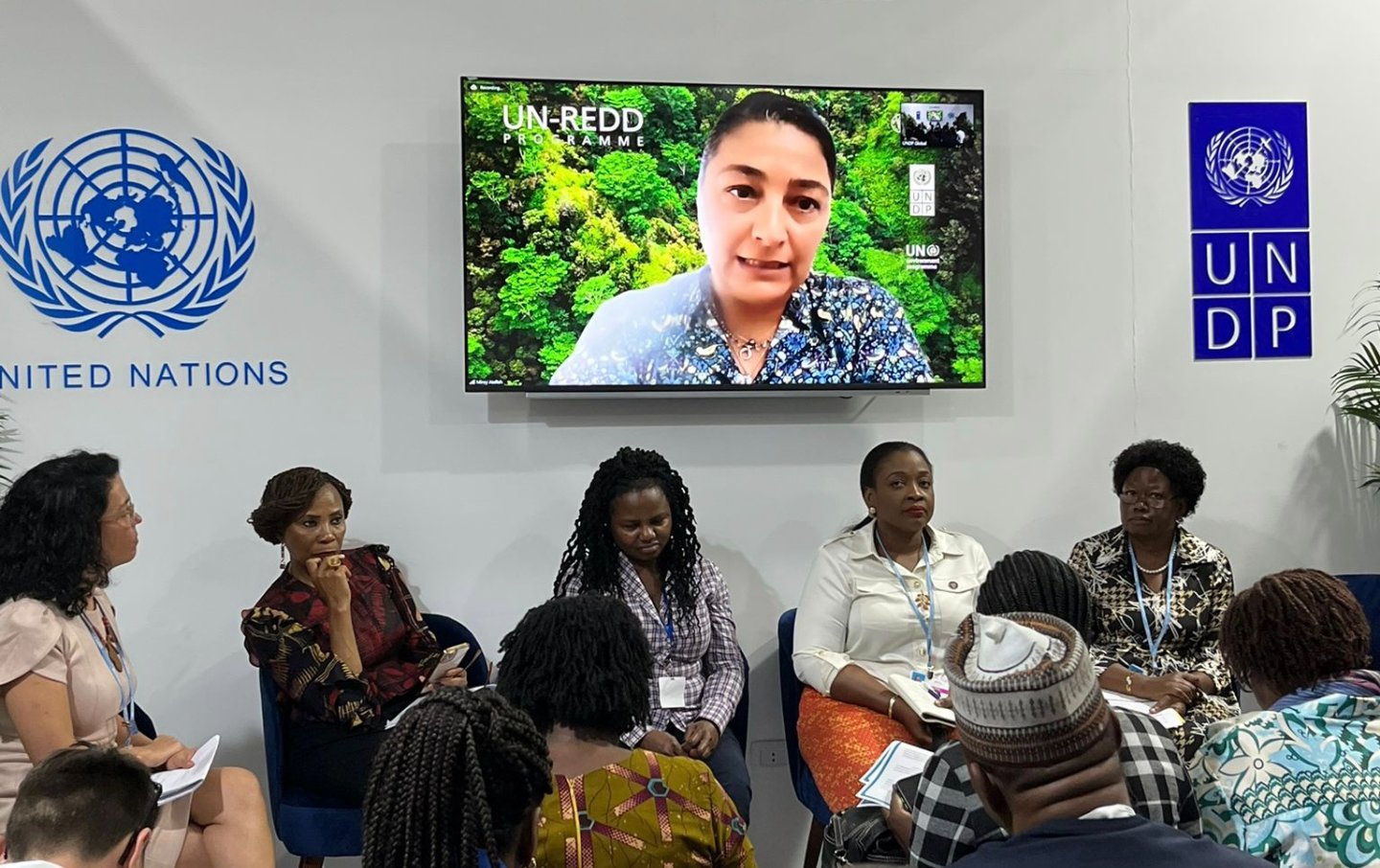 As our team prepared for an event entitled ''Harnessing Carbon Markets; a conversation with African Women Leaders'' we were excited to discuss about Forests on Gender day at COP27. The juxtaposition could not have been clearer. 
Many countries in Africa are setting up regulatory structures and systems and aiming to build capacity to engage in the voluntary carbon markets and Article 6 of the Paris Agreement; and with the broader aim to finance and fulfill their national determined contributions (NDCs). Carbon markets, which have quadrupled in the value of their transactions in the last two years, can support climate change mitigation by creating economic incentives to both public and private sector actors for reducing emissions from the forest sector whilst supporting a transition towards a low carbon and climate resilient global economy.  
Huddled in the dedicated interaction space at the UNDP Pavilion at COP27, the conversation unfolded in amongst the hubbub of nearby pavilions conducting their own important dialogues whilst Indigenous Peoples and civil society groups crisscrossed the zones, making known their discontent with respect to inequity and the frustratingly slow pace of the action to get to 1.5.    
Our moderator, Leticia Guimaraes, Senior Global Policy Advisor with UNDP, introduced Ahunna Eziakonwa, UNDP Under Secretary General. Bringing gravitas and grace, Ahunna started the conversation by getting straight to the point; ''if we do not focus on the contribution of women in this fight, we shall lose the battle.  Putting women at the forefront of the decision-making processes is what is going to do it for a decarbonized world''  
African countries are in the process of understanding how to weigh the opportunities afforded by carbon markets, alongside other options for the implementation of their NDC; what would work best in their national context and how best to operationalize them, including considerations on the tools and capacities they will require.
Margeret Mwebesa, Commissioner for Uganda's Ministry of Water and Environment was happy to share with the audience the progress with operationalizing Art 9 in Uganda's Climate Change Act. A multisectoral taskforce has been established to assess and implement a strategy with respect to carbon markets and implementation of the NDC. ''Every day I get a request to join the taskforce, the first of its kind, with expertise in finance, green bonds and a number of ways to channel resources to implement on NDC.  Uganda has high hopes for action to take place. Indeed we even have the participation of our Central Bank, the Bank of Uganda'' she proudly mentioned.  
It was refreshing to have these remarks straight from the heart, Roselyn Adjei Fosuah came in next to share Ghana's approach with Margaret.  She mentioned Ghana's gender road map and the deliberate   efforts being made to build the capacity of women stakeholders. In her direct and compelling way she noted the need to shift to grassroots-led climate change and to focus the bulk of the investments towards that end.  
Climate Focus Consultant, Nsikan-George Emana's powerful voice struck through next – explaining three moving parts from her perspective; how women and gender concerns are represented in the implementation of the NDC; how to have those discussions with stakeholders, project developers, recipients and traders of carbon; and which sectors countries can engage in with respect to market mechanism. Integrity, equitable sharing with those who undertake climate actions on the ground and attention to scale with bankable approaches are some of the important objectives. Underlying all this, Emana emphasized the need for rapid and targeted capacity building, something she is front and centre engaged with through the West African Alliance on carbon market and climate finance. 
Roselyn described Ghana's REDD+ journey in the cocoa landscape and the jurisdictional approach of its REDD+ Strategy based on ecozones.  With the Carbon Fund remitting Ghana's first results-based payment from the Cocoa Landscape for 2019, to the country, Ghanais well placed to advance with its approaches, for example, from 2025 onwards, Ghana will apply the REDD+ Environmental Excellence Standard to verify reductions. REDD+ Strategy implementation is underway, with another Programme begun in the Northern Savannah Zone with UNDP and the Global Shea Alliance.  The process with the Carbon Fund helped to bring about many lessons with respect to the benefit sharing arrangement which has been a key achievement. Essential to the process is establishing an understanding of  stakeholders want and how to engage meaningfully with local communities who are supportive of jurisdictional approaches- a primary concern is not to jeopardize the interest of local community, Roselyn emphasized.  
Mirey Atallah, Head of UNEP's Climate for Nature branch, and our UN-REDD Programme partner, emphasized the importance of determining the true costs to achieve emission reductions by supplier countries, and particularly with regards to choices by supplier countries on pricing, sector and activities that need to be undertaken.  This message was well received with vigorous nods from all the women. Mirey clearly communicated the need to push for equity and access to markets without excluding countries. She stressed the need for developed countries to channel result-based payment to developing countries without continuously changing the rules of the game, creating new rules or raising the bar on various mechanisms to access to climate finance, which is significantly eroding trust at this time. In order to bridge the divide between finance and African countries' aspirations, countries need to demonstrate the value of nature-based solutions, put together strategies to unlock various streams of finance and enable the macro-economic policy environment to understand all the jargon! In the end, carbon finance has to contribute to the SDGs; she told of a story about carbon finance where, even though it was not a huge sum, paid for a bridge and a road from one community to another that had a medical centre. Prior to the bridge being built, lives had been lost as patients couldn't reach the clinic in time.  
Ahunna Eziakonwa ended the conversation by commending the idea of a women-led panel on carbon markets in Africa and emphasized that trust must be the basis, bringing a human face to decarbonization and linking women's passion and commitment to the decision-making circles that are negotiating the future.