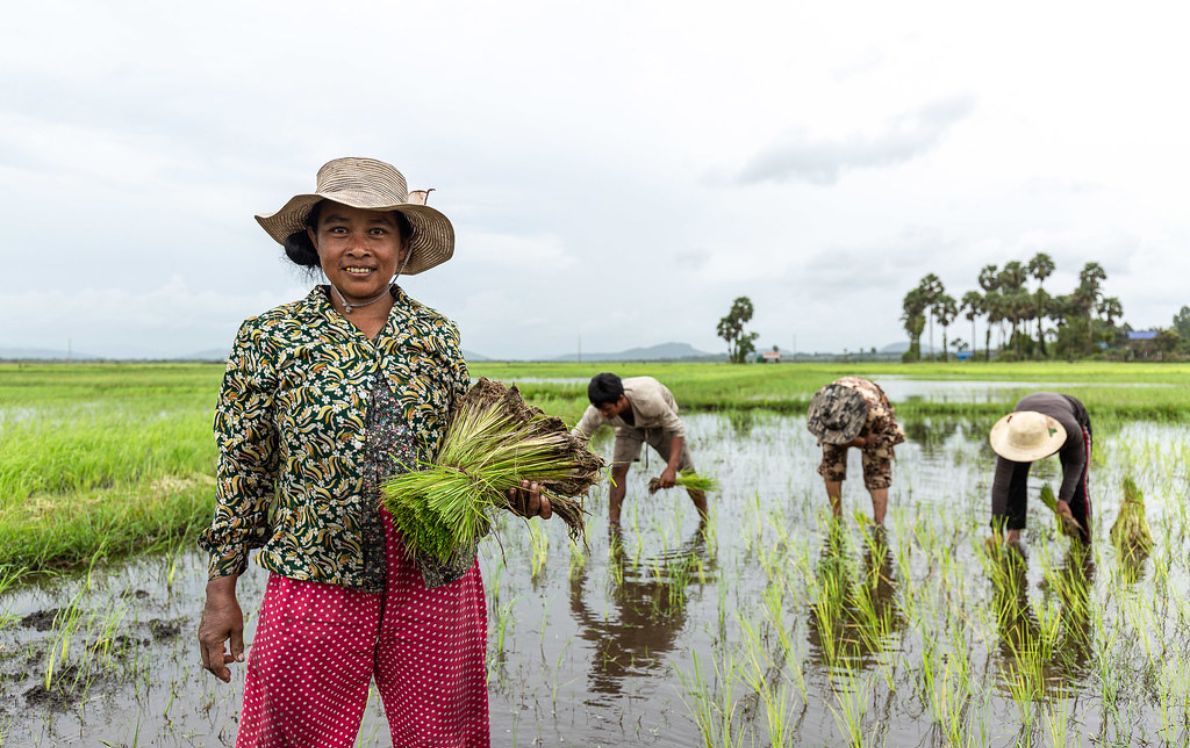 Guest author: Jamil Mahmood, Project Specialist, UNDP Cambodia
The interest in the rooms was palpable. Two teams; one in Nairobi, Kenya, just after breakfast and another in Phnom Penh, Cambodia, who had enjoyed their lunch. Together, they joined the UNDP knowledge exchange  through videoconference to discuss nesting systems for REDD+, with the aim of getting a bird's eye view of the work carried out in both countries and, particularly, to learn from Cambodia's progress in setting up a nesting arrangement. 
What is nesting and why is it important? 
Nesting provides countries with a toolbox for harmonizing and supporting REDD+ program and projects at different levels of investment and governance. 
Countries that are working to reduce emissions from deforestation and forest degradation have implemented initiatives at varying scales, utilizing diverse approaches, and drawing on various financial sources. In some cases, this leads to increased risks of double counting - overestimating reductions and undermining the integrity of emissions unit for reporting and the overall effectiveness of climate mitigation efforts.  
While there are a heterogeneity of approaches, and different actors and scales play an important role in reducing forest loss, inconsistencies  across accounting methods and reporting approaches – and a lack of transparency – pose challenges to the environmental integrity of reported and rewarded emission reductions.  
A nested REDD+ framework allows a country or jurisdiction to channel multiple sources and types of finance to support national climate goals. This alignment and harmonization of methodological approaches across multiple scales is called "nesting".  
When designing a nested system, a country needs to identify and resolve issues related to carbon accounting as well as institutional and legal arrangements. In doing so, it needs to engage effectively with governments, project developers, communities, and rightsholders to make required adjustments to jurisdictional (national, sub-national) programs and/or private projects. 
Both stand-alone and jurisdictional scale approaches use different methodologies to estimate reduced or avoided emissions that can contribute to mismatches in the accounting of emission reductions for the carbon credits issued. If the interest in using international market mechanisms to incentivise reduced greenhouse gas emissions continues to grow, ( 76% of Countries' NDC are planning to use them) it is also expected to increase the risk to environmental integrity in  national greenhouse gas emissions accounting. 
This harmonization across scales considers the integration of greenhouse gas emissions accounting frameworks to ensure consistency and integrity of emission reduction claims. However, a broader view of nesting includes other aspects related to REDD+ implementation, such as governance, safeguards compliance and financing flows. 
Due to the complexity of the issues, an increasing number of countries are demanding guidance on developing nested framework for REDD+, both to ensure environmental integrity as outlined in their NDCs but also to tap into more robust financial opportunities. 
 A collaborative effort on lessons learnt 
The latest experience sharing workshop organized by UNDP aimed to address just that: a south-south exchange between the governments of Cambodia and Kenya1 about the pioneering work that both countries are leading on nesting.  
Offering an opportunity to tap into Cambodia's expertise and experience in developing its nested system and Kenya's early progress in establishing the foundation of its nesting framework, the workshop provided an in-depth analysis of what governments need to meet their national forest and climate targets.  A shared result for both countries is the firm belief that there is still some way to go to develop rigorous nesting approaches, especially given that governments are facing new obligations under the Paris Agreement.  
One of the biggest challenges for both Cambodia and Kenya is the complexity of carbon markets and their potential to generate high-quality carbon credits for financing REDD+ activities; the articulation of diverse technical elements mainly related to carbon accounting; as well as the fact that government budgets are often constrained when it comes to site-based forest activities, inevitably creating a barrier at the local level to addressing some of these complexities. 
The workshop revealed that Cambodia  has  focused considerable effort on its Nested Framework, a system that is one of the first of its kind globally. The experiences shared during the workshop reflected both the progress made and the challenges tackled within the scope of this Framework.  
 
Cambodia is prioritizing stand-alone projects for strengthened access to voluntary carbon markets, then progressively integrating them with national jurisdictional approaches. This Framework will enable coordination at different levels to implement its National REDD+ Strategy, and drive projects and investments to areas with higher risk of deforestation through an allocation tool that works based on the country's Forest Reference Emissions Level. It will also contribute to Cambodia's NDC efforts through managing safeguards, financing, and benefits-sharing, while simultaneously setting a foundation for participation in carbon transactions, as outlined under the Paris Agreement's Article 6. 
Cambodia is also advancing efforts to accelerate the approval of the legal system for its nested framework, even though there are technical challenges yet to be resolved. According to Dr Ken Serey Rotha, who leads the REDD+ Secretariat in Cambodia, the country needs to strengthen the governance of nested projects' operation at the national and provincial levels. Complementarily, statements made by Leng Chivin, Director of GIS Department in Cambodia, revealed the need to improve the integration of systems and analysis to estimate the impact of the current and intended REDD+ projects have on the NDC's forest target. 
The approach that Kenya has taken, described by George Tarus, from Kenya's Forest Service, was to first set up an expert group tasked among others with the development of a nested framework based on a robust a road map. This expert group has met several times since its inception in September 2020.  
Key tasks undertaken by the expert group have been selection of a nested approach and the definition of activities to operationalise of a  nesting framework, contribution to policy dialogue around the revision of Kenya's NDC, and technical assistance for the improvement of the Kenya's Forest Reference Level (which is being re-assessed).  The expert group has organised discussions with project developers and assessed how REDD+ projects are implementing safeguards.  
It was clear that the expert group has gained traction from all the comments and questions that came from the  private sector representatives, government and NGO participants in the room. Tarus emphasised the importance of ensuring that local action by the private sector can contribute to NDC's emission reduction targets and the need to develop a robust benefit sharing mechanism for marginalized communities and forest-dependent communities of both site-scale REDD+ projects and national and subnational REDD+ programs. 
   
Looking ahead 
This specialized experience exchange resulted in a mutually beneficial situation for both countries. Kenya, having familiarized itself with the fundamental elements and criteria involved in  Cambodia's nesting system, can now refine its own nesting approach and better understand the early measures needed in the design stage. One big takeaway is that it will be crucial to improve the in-house capacity and knowledge in Kenya to ensure that the country is  strategic in how it evaluates opportunities and challenges while planning for their NDC alignment.  
From Cambodia's perspective, recognizing the growing interest from peer countries in its valuable experience on developing its Nesting Framework can be leveraged to further influence the country's strategic decision making before moving to implementation..  
Strengthened partnership between Cambodia and Kenya is bound to continue as the two countries have agreed to reconvene for another deep dive into the technicalities regarding the nested framework.  
UNDP, through its Country Offices and the Climate and Forest Team, is ready to support and convene further learnings between Cambodia and Kenya and to broaden this effort to include other interested countries. 
1 The event counted on the presentation of the REDD+ Taskforce Secretariat (RTS) of the Ministry of Environment of Cambodia, and the National Expert Group (NEG) led by the Ministry of Environment and Forests (MoEF) of Kenya, and stakeholders and partners who are being involved in implementing of their REDD+ programs.